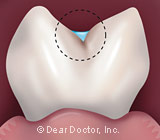 Wouldn't it be wonderful if you could put up a protective shield to guard your children's teeth from decay? Think of the time and money you would save, not to mention the pain your children would avoid. Well, it turns out that you can put up such a protective shield — or at least, we, your dental professionals, can.
The natural protective mineral coating (the enamel) of a child's new teeth is more permeable to the acids that dissolve minerals and cause decay, so the new teeth are more vulnerable to tooth decay than mature teeth are. As a tooth's enamel matures it becomes more resistant and stronger. Thus it is important to protect the surfaces of the new teeth when they erupt (grow up through the child's gums).
The back teeth, particularly, often erupt with deep grooves in them. The backs of the top front teeth may also have such grooves, which dentists call "pits and fissures." When the grooves are deep, they are hard to keep clean. Toothbrush bristles may not be able to reach to the bottoms of the grooves; and bacteria may gather in them, releasing acid byproducts that dissolve tooth enamel and start forming decay.
Dental sealants are among the preventive options we have in the war against decay in your child's new teeth. Regular tooth brushing and flossing, regular dental visits, application of fluoride, and low sugar consumption are also important in decay prevention techniques.
Sealants are protective coatings placed in the tiny pits and fissures to seal them off from bacterial attack. Some dentists routinely seal all permanent molar teeth and many primary (baby) molar teeth soon after they erupt.
Some dentists use sealants only when an examination shows that decay is just starting or very likely to start in a particular tooth. In such cases a minimal amount of tooth enamel is removed to eliminate any decay, and a mini-resin, invisible filling is applied.
Contact us today to schedule an appointment to discuss your questions about dental sealants for your children. You can learn more about them by reading the Dear Doctor magazine article "Sealants for Children."