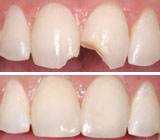 Imagine this: your active, adventurous child — or adolescent — loves high-risk contact sports like hockey or football, and while playing breaks a front tooth. After an emergency trip to our office, we recommend bonding as a good choice for this repair.
"What is bonding?" you ask. Here's what you need to know. In a bonding procedure, a composite resin restoration material is attached (bonded) to the broken tooth, and it looks as good as new.
Composite resin restorations are tooth-colored filling materials composed of a special plastic-based matrix for strength, with glass filler for aesthetics and translucence. The combination looks just like a natural tooth. The composite resin material is physically bonded to the remaining healthy tooth structure. First the natural tooth enamel or dentin must be etched so that the composite resin can attach and actually join to the tooth. In the end it will function as one and look exactly like a tooth.
Composites can be placed directly on the teeth in our office, quite easily, and they are relatively inexpensive. They look natural and can be matched to your child's natural tooth. They require little to no tooth reduction. Bonded composite resin restorations are the best choice for children and teenagers because their teeth and jaws are still growing and developing. What's more, they are still active in their sports and could need further restorations.
Composite resin restorations may need to be replaced with more permanent restorations after your child is fully grown. The bonded resin restorations may wear over time, and may stain and dull somewhat with age. When your child has completed growth, more permanent restorations such as porcelain veneers or crowns may be necessary.
By the way, a custom-made mouthguard might have prevented injury in the first place and certainly should be considered in the future.
If your child has chipped or damaged a tooth, contact us today to schedule an appointment or to discuss your questions about bonding and a protective mouthguard. You can also learn more by reading the Dear Doctor magazine article "Repairing Chipped Teeth."