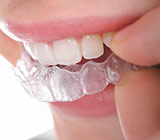 Metal braces are often considered a rite of passage for teenagers whose teeth need straightening. While some teens have no problem with this, others are more self-conscious and would like a less noticeable and less restrictive form of orthodontic treatment ("ortho" – to straighten; "odont" – teeth). After all, traditional braces can sometimes require diet modification, regular tightenings can cause discomfort, and the hardware itself can irritate the inside of the mouth. All of these things can limit a teen's ability to function normally during an already difficult stage of life.
That's why many teens today are opting for removable clear aligners, which have been popular with adults for years. In this system of orthodontic treatment, transparent, flexible, plastic "trays" are custom-made to move an individual's teeth into better alignment in a step-by-step fashion. Each tray moves the teeth a little bit further, according to a precise plan developed with specialized computer software by an orthodontist, or a general dentist who has received special training. It's not available from every dentist, but we are happy to be able to offer it here.
It used to be that clear aligners were not recommended for teens for two main reasons. For one thing, because they are removable rather than attached to the teeth, it was assumed a teenager would not be as conscientious as an adult about wearing them nearly 24 hours a day, which is necessary to achieve the desired results. Now, however, clear aligners for teens have colored "compliance indicators" that fade over time. With this new tool, dentists and parents — and teens themselves — can monitor compliance and progress.
The other main problem in prescribing clear aligners for teens had been that their second molars are still growing into position. This problem, too, has been solved. Clear aligners now have "eruption tabs" that serve as space-holders for teeth that have yet to grow in.
Finally, in recent years, improvements have been made to the whole clear aligner system that allow it to be used for more serious malocclusions (bad bites). So it's actually a viable option for more orthodontic patients in general — teens as well as adults.
If you would like to learn more about clear aligners for your teenager, please contact us or schedule an appointment for a consultation. You can also find out more in the Dear Doctor magazine article "Clear Aligners For Teenagers."