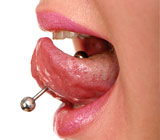 It was one of those things that seemed like a good idea at the time. Maybe it was years ago, or maybe it was yesterday — at some point in your past life you had your tongue pierced and a metal bolt inserted. But now you are wondering whether you made a bad decision. If you have the bolt removed from your tongue, will your mouth go back to being the way it was before the piercing?
The answer is yes, your oral health will improve when you remove a tongue bolt. There are many reasons for this. Your tongue has a rich blood vessel supply to fuel its energy needs and heals quickly.
Some people suffer from chronic pain as long as the bolt is in place. In addition to pain, tongue piercing is associated with other risks. The bolt can chip your teeth or cause tooth sensitivity. It can also cause your gums to recede from your teeth. You may also suffer from inflammation and infection in your gums. This can lead to bone loss and ultimately to loss of teeth.
A piercing and tongue bolt can also cause damage to the nerves in your tongue. This causes pain for some people until the bolt is removed. Your tongue is well supplied with nerves as well as blood vessels. That is why biting your tongue hurts and bleeds a lot, another good reason for not having a piercing.
So what happens if you have the bolt removed? In most cases conditions in your mouth will return to normal. We will want to monitor your condition after removing the bolt to make sure it has not caused collateral damage to your gums and teeth and other oral structures.
Removing the bolt will leave your tongue with a hole that is likely to close spontaneously. If it does not close, a small surgical procedure can remove the skin that lines the holes, which are then stitched closed. This procedure is done with local anesthesia so you don't feel anything, and healing is usually quick and without complications.
If you are having second thoughts about a tongue piercing, it's time to make an appointment for a consultation with us. You can also view the Dear Doctor magazine article "Oral Piercing."